Beginning one t-shirt business is a breeze as you don't need any prior experience and can start at a low cost. Many entrepreneurs have sold t-shirts as a side business because it allows them to make quick profits.
Selling the t-shirt is low-risk, making it a good choice for new entrepreneurs who want to learn the ins and outs of running a business.
Here is a step-by-step guide on how to start a T-shirt business.
Let's get into the details right now!
A Step By Step Guide On How to Start a T-Shirt Business
Step 1: Pick a Niche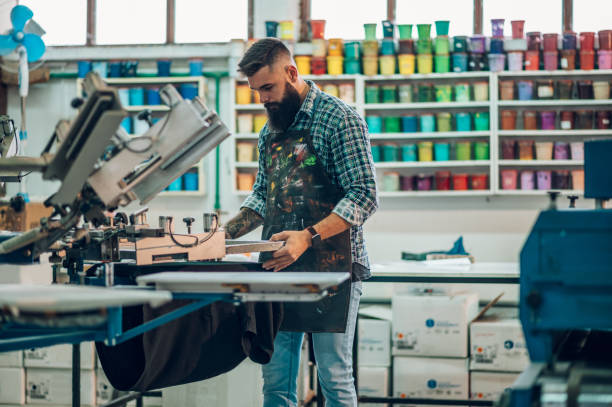 There are many t-shirt businesses, making the industry very competitive. So the best way to ensure your business grows solidly is to target a specific niche.
Although many t-shirt businesses are operating out there, there is a lot of unmet demand for t-shirts. You should find those holes and think about filling them.
You can actively participate in online communities to ensure that you create t-shirts that many people will love. You can also find out how many fans your niche has with a tool like Google Trends.
Step 2: Decide How You Will Produce Your T-Shirts
After you've decided which niche you should target, it's time to dive deeper into your t-shirts through this next section.
How Should Your T-Shirts Fit?
T-shirt sizing is essential. Some customers prefer fitted t-shirts while others prefer oversized ones. You also need to consider female and male sizing options.
Weight and Fabric Quality
You should also rely on the preferences of your target customers to decide on fabric quality. For instance, organic cotton t-shirts are the way to go if you're aiming for nature lovers.
Screen Printing or Digital Printing
It is easy to do the screen printing process at home. It is easy to outsource as well. If you own popular screenprint designs, it's feasible to use the same screen to print your design on canvas bags, aprons, and more to expand your business.
But it requires you to set one single silkscreen. Also, each color needs its own screen to print. You will need to pay an upfront investment for storage and supplies, which may lead you to target another printing process.
Direct-to-garment printer is a prevalent tool that print-on-demand businesses frequently use, such as Printify and Printful.
This process allows you to simultaneously print T-shirt designs with various colors, like the inkjet printer. It is ideal for small orders but will be less cost-effective as you scale your business.
Embroidery, dye-sublimation, and heat transfer are other popular selections.
Dropshipping
If you don't focus on being creative with your t-shirts, you might want to consider buying or dropshipping pre-made t-shirts.
Step 3: Consider Handle Inventory
Besides the printing cost, screen-printed tees also require a storage area.
While some businesses arrange store space at home to keep their unsold products, others have to pay for outside space to store their t-shirts.
For print-on-demand, it is unnecessary to worry about inventory as a vendor will print each shirt, meaning you do not need to store printed models.
Instead, they will ship goods to your customer. Although it sounds like a great idea, it will be harder to grow your business.
Various physical businesses improve their profits by increasing the production rate. That way, they will lower the production cost for each unit and let them make more for each unit sold.
So if you manage your t-shirt printing or use the process like heat transfer or screen printing, you can control those parts of the business.
If you opt for a print-on-demand service, the cost per t-shirt will usually stay the same, whether you sell one or twenty t-shirts. So the only way you increase profits is to sell more products.
Step 4. Pricing Your Products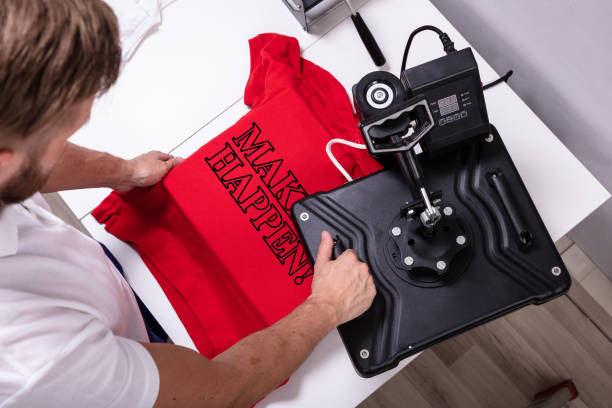 The simplest and fastest way to price your shirt is to double the cost of production and materials.
For example, you spent $400 to make ten t-shirts, so the production cost per shirt is $40. As a result, the price for each of your t-shirts is $80. This approach is quick but may not be the best.
Before setting product prices, research your competitors in the same market. This will give you an idea of what the customer is willing to pay.
You can experiment with pricing over time. It means you can adjust your prices to test ideas and see if your product price is suitable for most customers.
Step 5: Determine Where to Sell Your T-Shirt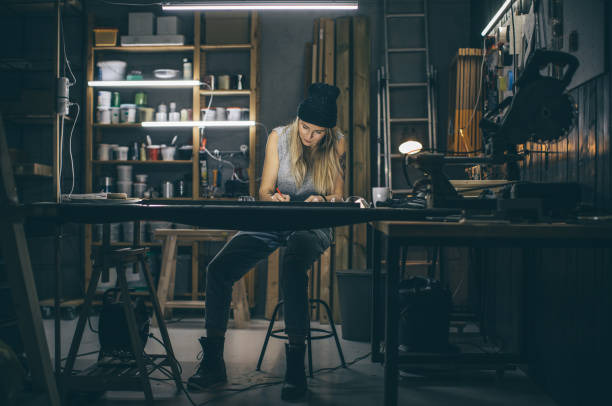 Many people choose to start with an online business. E-commerce is more popular than ever, making it easier to do business online.
The internet is not the only place that sells T-shirts. You can connect with your potential customers by meeting them where they already are. It could be local farmer's markets, events like maker fairs and comic cons, or local retail stores.
If you're starting a business while in college, you can target campuses as potential locations. Using print services on campus allows you to save even more money.
Step 6: Figure Out Marketing Plan
T-shirt businesses benefit a lot from word of mouth. It means that each customer is a walking advertisement for you.
The brand will set your new business apart from the rest and allow you to develop a reputation for awesome t-shirts.
Before launching T-shirts on the market, you'll have to figure out the right way to publicize your business. Any new business will also need a solid content marketing strategy.
Even if you only intend to sell online, word of mouth is still the most effective way, and do not forget about local sales. Start by reaching out to your personal network before connecting with the right people in your niche.
Step 7: Set Up Your Business Plan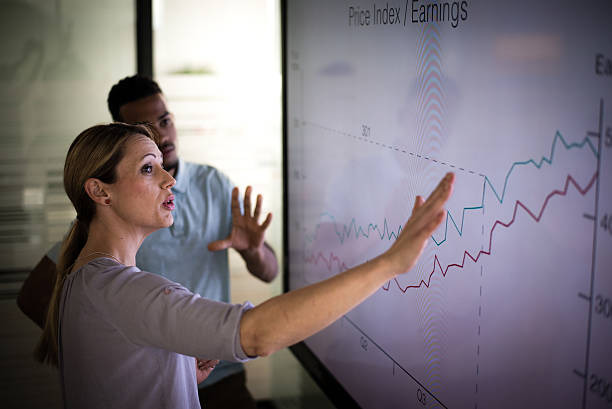 A sound business plan is a must for any startup. It is where you aggregate all budget, timing, and marketing decisions.
A decent business plan will help you move forward smoothly and efficiently. In addition, you can use your business plan to note hard-to-remember details, such as required permits or fees.
Here are our recommendations for what to include in your business plan.
Business name.
Mission and Vision statement.
Product description.
Startup expenses.
Pricing strategy.
Action plan.
Marketing plan.
Rough timeline.
Step 8: Begin Designing T-Shirts
It's time to do the most exciting part: Design your T-shirt. You can do this yourself or get professional help.
Design T-Shirts Yourself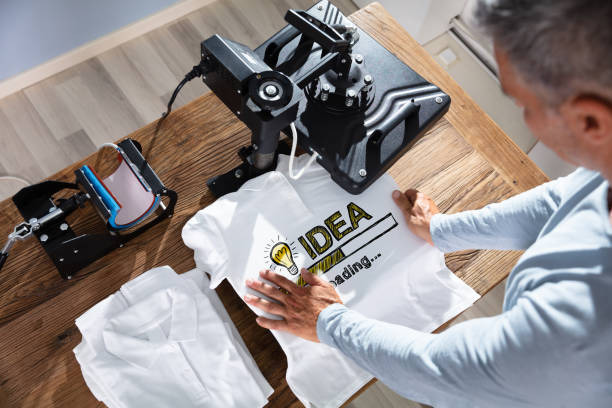 Designing t-shirts yourself will be a great experience as it allows you to express your creativity and ingenuity.
If you go this route, you should test your design ideas with your friends or loved ones before investing in print.
Alternatively, you can also take a social media survey to see unbiased reviews of your designs.
When inspired by famous product or brand design ideas, you must be aware of copyright issues.
Once you've clearly understood your rights, it is time to be wildly creative with your inspiration.
Hire a Skilled Designer
If you don't have the skills to design t-shirts or the time to work on them, getting help from a skilled designer is okay.
Through sites like Fiverr and Upwork, you can easily and quickly find skilled designers who can create decent designs at affordable prices. It's where you keep up to date with the latest on your products and customer support.
Make sure you keep things simple and user-friendly.
Step 9: Prepare for Excellent Customer Service
Set Up Decent Website
Whether you use your website to sell online or advertise, an eye-catching and helpful website is essential for your business.
Interact With Your Customers
No matter how clear your product or business information is, customers will always have questions for you. They will appreciate your business if you support them quickly and enthusiastically.
In addition to setting up a FAQs system that covers the most commonly asked questions in the industry, you should also set up a live chat system.
That is where customers will directly ask for your advice, and then you will respond to them through it quickly.
Make It Effortless to Buy
To take advantage of impulse purchases and minimize abandoning the shopping carts, setting up a decent buying experience for your customers is essential. So make shopping on your web as simple as possible.
We recommend considering an e-commerce platform that offers multiple bar gateways, allowing customers to make easy one-click purchases.
Step 10. Launch Your New Business
Once you have completed the above steps, your business is ready to go.
Start selling your t-shirt on your website, sidewalks, or a local store, then watch your profits grow over time.
Various approaches allow you to design awesome t-shirts. In addition to the dropshipping we mentioned, there are plenty of other options to consider.
FAQs
Which Is Better: Printify Or Printful?
The answer will depend on which metric you want to save money on.
Printify production costs are lower than Printful, while Printful features better international shipping rates.
Is Selling T-Shirts a Good Business?
According to Grand View Research, the custom T-shirt printing industry worldwide was valued at 3.64 billion USD in 2020.
From 2021 to 2028m this industry may potentially expand at a compound annual growth rate of 9.7%
What Is the Profit of a T-Shirt?
In most cases, sellers set the profit margin at approximately 50%.
Hence, if your cost for a t-shirt is $20, you can expect to sell your t-shirt for $40. Setting a higher profit margin may allow you to offer free delivery.
What Type of T-Shirt Sells Best?
Black t-shirts are the most popular. The reason is that they are very flexible, allowing them to be combined with any item.
Is Selling The T-Shirt Online Profitable?
Overall, t-shirts sell at a forty to fifty percent margin, so you can get a decent profit by trading a high volume quickly.
A regular seller can make $90,000 to $100,000 per year. But you shouldn't expect this profit when you're just starting your business.
It will depend on your chosen niche, your marketing plan, and how quickly your business can grow.
How Can I Create Shoppable Posts on Instagram?
You can make shoppable posts by tagging the product the same way you tag a user. Start by setting up your Instagram shop. After that, you can press items in your images and link them to one product listing.
How Long Does It Take to Print a Shirt?
The actual time it takes to print a shirt is less than three minutes.
Of course, some shirts are printed slower and some faster. It should depend on the size of the shirt and the color of the shirt.
What are the Pros and Cons of the T-Shirt business?
Pros
Better returns
Easy to start up
Wider market
Job security
Show creativity
Make great giveaways
Convenient schedule
Use print-on-demand options
Great for promotional material
Higher likelihood of getting referrals
You can promote and sell your product on Amazon
Cons
Losses
Poor decisions
Competition
Time-consuming
Learning curve
Long working hours
Minimal physical activity
You may need to charge sales tax
Not environmentally friendly
Challenging to build trust with your customer
How Many Designs Do You Need to Start a T-shirt Business?
It depends on your budget. We recommend starting with no more than eight designs and six tees for each size in each design.
The Bottom Line
After reading through this article, you should know how to start a T-shirt business and create your own success story.
Designing and selling T-shirts in this niche is competitive, so ensure to use the tips we have mentioned. Thanks for your time!