Selling your cookies at home is a great way to combine your home-based career and love of baking. But beginning a home-based cookie business will require more than a batch of snickerdoodles.
You will need research and planning to ensure your new business gets off to a good start. Moreover, you will need to obey your state laws regulating food sales, including applying for a special permit.
While you may be wondering about "How to start a baking business from home," many other home bakers have transformed their passion into a successful business.
1. Ensure You Are Legally Set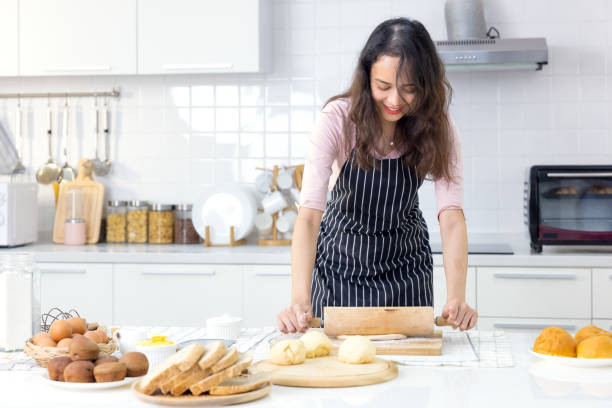 Starting a home-based cookie store means opening a new business. So, it is essential to comply with local and state laws, taxes, and business licensing.
In addition, you will also need to comply with some nuanced laws relating to the sale of food goods from home. The law may vary from location to location, so we recommend consulting your local food and business authorities.
Here are general guidelines.
Local Cottage Food Laws
The home-based store is covered by "cottage food," a category of law.
This classification will separate the home-based bakery from production kitchens or retail/commercial operations with designated storefronts.
You need to ensure your commercial bakeries meet requirements for sanitation and equipment, while the cottage-food operation is exempt from various rules.
Although cottage food would be regulated state-by-state, it is typically limited to the shelf-stable product that does not require refrigeration, ideal for any baked good!
States will also impose sales limitations to ensure home-based cookie businesses do not get too big (prevent a large-scale operation from skirting the retail bakery regulations).
You will also need to be able to follow the rules regarding who your customers are. The cottage bakeries area is typically for direct-to-user sales only. It means that selling your products to local bakeries and grocery stores is not feasible.
So you should start with an assessment of the rules in your area. State and local health departments can advise where you can find more information about cottage food laws in your area.
Get a Business Entity and Apply for Licenses
When starting your new home-based baking business, you'll need to resolve a few legal issues before selling your delicious cakes.
In some states, you must apply for a business license before operating a home bakery. Your state may also require that you possess the food manager license provided by your local health department.
At this point, you will also need to create a business entity, such as LLC (short for limited liability company).
We recommend setting up a company instead of operating your new business as a sole proprietor or individual. It will protect your personal assets from legal liability when you face lawsuits.
In addition, you should also consider the insurance policy. In this regard, you should consult an attorney or a cottage food expert for the best result.
Organize Finances & Focus on Taxes
A vital business rule is keeping your business account separate from your personal account.
In other words, you'll need to create a separate business bank account that you'll use for transactions for your home-based baking store once it's set up.
You will also need to charge food tax or sales tax on products your business offers. Also, monitoring the details of your sales and documenting their breakdowns is essential to ensure you've paid enough state and local taxes.
2. Set Up For Bakery Menu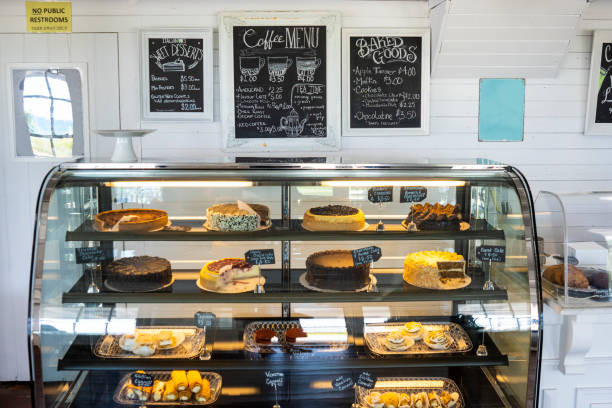 Once you have understood the regulations and rules, it is time to jump to the exciting part!
Many home-based cookie businesses sell bread, muffins, cupcakes, cookies, and cakes. As a boss, you can decide to sell things you like and remove things you don't prefer from the menu.
Don't forget to consider local laws while setting up the menu for your business.
Also, you should make sure that your products are shelf-stable. That means something that requires refrigeration is not a good option.
One of the benefits of running a baking business from home is flexibility.
For example, suppose you notice that people have liked banana bread lately. You can easily tweak your menu by adding whole or slices of banana bread to sell to those who need them.
That said, you can easily and quickly adjust your business' menu based on trends instead of maintaining a menu.
3. Get Supplies and Gather Necessary Equipment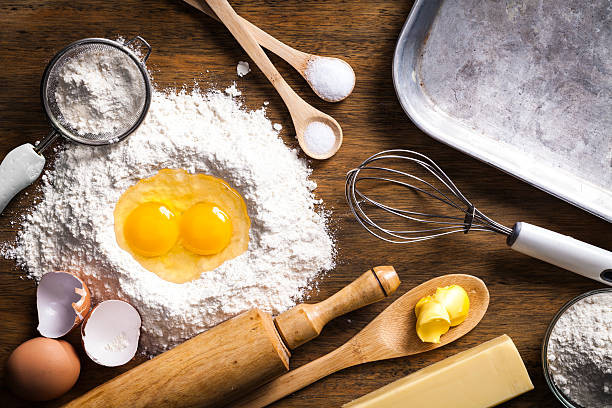 Once you've decided what your menu includes, it's time to gather all the equipment you need to make them. You'll need to make sure you have everything you need for your business to run seamlessly.
The cottage food laws of some states, you must keep your bakery devices separate from personal kitchen stuff. Hence, you will need to meet those extra space needs (if required).
Keep track of the costs of all your supplies and equipment, as you will likely need to take them into account when calculating taxes and pricing for products.
4. Price Your Products to Make Sure Profitability
Pricing your products is not simply based on how your competitors charge. It's not easy like that!
In most cases, the price of your product should include the cost of labor, raw materials, and additional costs such as farmers' market fees, business fees, and a bit left over for profit. But how do you accurately price your product?
Calculate Food Costs
You will need to list the cost of each ingredient used in the creation of your baked goods. For example, your spreadsheet might include the following:
Flour: Two pound
Sugar: One pound
Eggs: A dozen
Butter: A stick
baking soda: One tin
And more.
Then, you can calculate the food cost for each recipe based on that information.
Calculate Labor Cost
Let's say you plan to offer cupcakes.
Based on the spreadsheet you created above, it is easy to calculate the cost of the sugar, vanilla, baking soda, eggs, etc., you use for your recipe for a batch.
After calculating, you estimate the cost per cupcake batch is $10. After that, divide this result by the number of cupcakes in a single batch.
Calculate Overhead Costs
This step requires you to consider other costs you may incur for your business.
It may include fixed costs such as a monthly website and farmers' market fees. You may also need to factor in variable fees, such as packaging costs.
It is difficult to determine these values, especially if you are a beginner. Yet, you should attempt to estimate the total cost of products by month and divide the result by the number of goods you plan to sell per month.
Assess Cost of Goods Sold
COGS is the total cost of producing your items. You need to add up each of these costs to get your COGS for each cupcake. If the total amount your business generates is less than the COGS, you are at a loss and vice versa.
5. Create The Marketing Plan And Ready To Bake!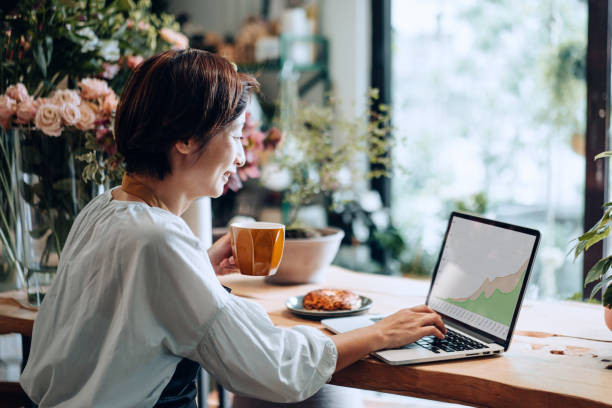 Now that you've got the details sorted, you're ready to start baking and open up shop. But without a proper marketing campaign, no bakery business can thrive.
Before opening your new baking business, it is essential to plan to market your business and attract and retain potential customers.
Your business will need an excellent and easy-to-use website. In this regard, you should hire a professional to design it. However, just having a good website is not enough because you will need to find a way to drive potential customers to it.
We recommend adding information about your website to all marketing materials, such as business cards. In addition, you can also take advantage of social networks like Instagram, Facebook, TikTok, and Twitter.
For example, TikTok is a great platform that allows potential clients to see your behind-the-scenes work, although creating an engaging baking video may require more skill. Don't forget to factor the cost of any digital tools you pay into the cost of goods sold.
You can also try promotions like "buy five cakes and get one free" or offer free cakes that can make people more excited and curious about your business.
Pros and Cons of a Home-Based Baking Business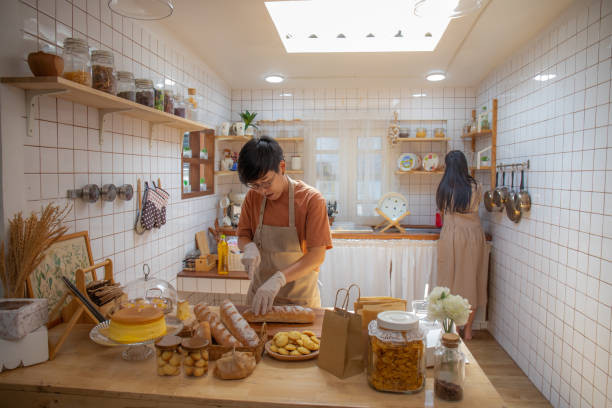 Pros
There are good reasons to begin selling your baked goods from home, including:
Do what you love: If you love baking, you will earn money from your hobby and passion.
Express your creativity: You can express your creativity by preparing baked goods.
It's easy to get started: As you have a solid background in cooking, it will be easier for you to start a baking business from home than as a complete novice.
Benefit from a potential industry: It is undeniable that this industry is one of the most potentials and is always in high demand. So the question is, "How do you take this opportunity?"
Selling online is possible: The internet is growing rapidly, and there is no reason why home-based bakeries should stay out of the game. It isn't difficult to find online bakeries on social media, such as Facebook.
Cons
Starting a baking business from home also comes with a few downsides that you need to be aware of as a business owner.
Foodservice business is typically regulated by the state's health department or occupational. Hence, you need to learn and understand the state's laws, and then you will need to comply with them.
The competition can be tough, and you should always find a way to stand out from the rest.
You only earn money for your baked goods. Therefore, it is highly likely that you will spend a lot of time cooking to create enough goods to meet the desired income.
FAQs
What Are the State Regulations for a Home Bakery?
Each state will have different rules regarding home-based food businesses.
So you should browse official government websites for your state (specifically agriculture and consumer-related government websites).
Where Can I Find Good Recipes to Start With When Starting a Home Bakery?
You can go online and take advantage of the numerous recipes available. To make them your own, you can add or replace a few ingredients.
Then, run through your recipe a few times, so you know if you need to change something before you start selling it.
How to Name My Bakery Store?
You should try to choose a name that is memorable and catchy.
We recommend trying using your name or something dear to your soul, so people will associate your business with you.
Regardless of your business name, make sure no business uses it yet.
How Can I Find Financing for My Business?
You can find donors and sponsors. Many people are willing to donate and sponsor local and smaller businesses.
You can take out a loan. Yet, you need to remember that a loan may be challenging to pay off. Moreover, you can lose money over time.
We recommend beginning to save early. Throw a fundraising event, and sell merchandise! Be creative!
Is Baking Cakes a Good Business?
The short answer is Yes. Cake-making is one of the most profitable businesses.
The Bottom Line
Starting a based-home baking business will be a fun project to get up and running. From planning the product list to getting the logistics sorted and setting prices, you can open up your business within several weeks.
With some thoughtful planning and your inherent creativity, you will transform your life with this path. Thank you for reading!