For food lovers and business enthusiasts, owning a food truck business is like a dream. This model offers freedom, comfort, and can still yield attractive profits.
The attractiveness of this industry is evident as the market witnessed a growth of up to 7.5%. More people are interested and want to enter the market.
Let's explore how to start a food truck business and some helpful tips here!
How To Start A Food Truck Business: A Complete Guide
Starting a food truck is not a difficult task. You'll need to follow the seven-step guide below to get your mobile diner.
Plan Your Cost and Budget
Cost is the first factor you should consider when you want to start a food truck.
Fortunately, you won't need to invest too much in this model like traditional restaurants. The considerable amount you need to pay is to buy a truck.
The price for such a vehicle ranges from $50,000 – $60,000. Sometimes, you must customize and redecorate it to match the restaurant's concept.
This model has many different concepts, but fast food like mac and cheese or fresh seafood are the most popular choices.
Other expenses you might consider:
Personnel costs, wages, employee benefits, and insurance.
Expenditures for advertising campaigns and marketing publications.
Expenses to operate the truck periodically, such as gasoline and repair costs.
Food and cooking costs.
These amounts can fluctuate depending on your plan. If you want to start on a small scale, they won't be much. However, be prepared that you will need an adequate amount of money for regular truck repairs and maintenance.
This business model requires you to be on the go and be on the truck most of the time. The interior, as well as the engine of the device, can degrade quickly.
To cover those costs, you can rely on the support of family and friends. Another method is to apply for different credit loans to rotate capital.
Get The Board Of Health Approval
The catering business requires you to follow many different rules and regulations. You need to ensure the health and safety of your customers.
The most important regulations you should be aware of are those of the Board of Health. Periodically, there will be inspections and assess the quality of your feed.
Please prepare the following documents to pass the verification test:
Owner's identity document.
Driver's license and proof of vehicle ownership: If this is a rental car, you must have permission proving the right to use the vehicle.
Food purchase records.
Food storage and freezing conditions are appropriate and hygienic.
The ability to meet fire, hygiene, and safety requirements.
A Food Manager Identification Card is issued by the locality where you do business.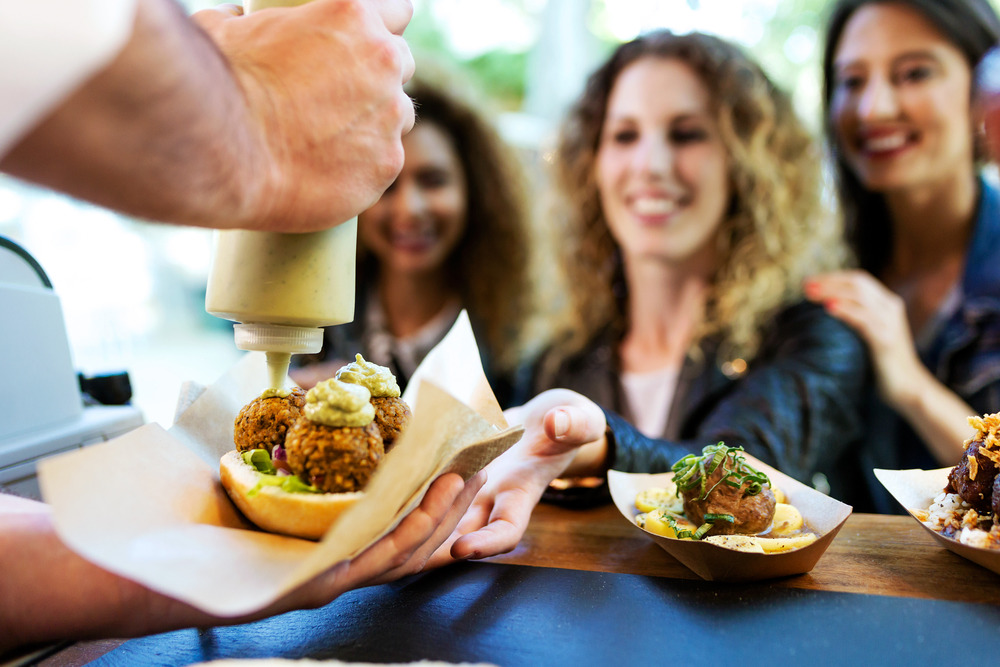 Get License and Permits
After you have passed the food safety and hygiene test, you need to prove that you have the full license to do business.
Depending on where you decide to sell, requirements will fluctuate and change. Here are some of the most common types of permits and licenses:
Seller's Permit
Some states or localities require truck owners to have a sales license to do business. The advantage of owning this license is the reduction of sales tax.
It allows you to buy equipment and food at wholesale prices and save money.
Zoning and Parking
Choosing a suitable parking space is also a significant issue. Not all public areas have the same parking rules, and you must be aware of that before arriving.
Some states will limit parking areas to non-commercial and commercial. Some places won't even allow your vehicle to stop at specific locations.
Penalties for violations will affect your brand reputation. To prevent this situation, refer to the detailed report of the U.S. Chamber of Commerce Foundation.
Employee Identification Number (EIN)
If you plan to operate independently, you will not need to pay attention to the EIN. On the contrary, this code is essential for those who want to hire employees.
The IRS will issue EINs to identify a business entity. Through it, the business owner also can open a bank account for the business and set up the corresponding transaction history.
Vehicle License
Since your business operates primarily on one vehicle, a driver's license is indispensable.
You will also need them to move between areas frequently. Make sure you can control the vehicle safely.
You should apply for a state or local commercial driver's license for food trucks.
Fire Certificates
Cooking will require a lot of fire, so your business must have an effective fire protection system.
These requirements will vary by region and state. You can check before you want to go anywhere.
Business Licenses and Permits
Finally, you must prepare some standard documents to operate your mobile restaurant.
Some types of permits to own are a state sales tax permit and a DBA. The good news is that obtaining these licenses is quite simple and inexpensive.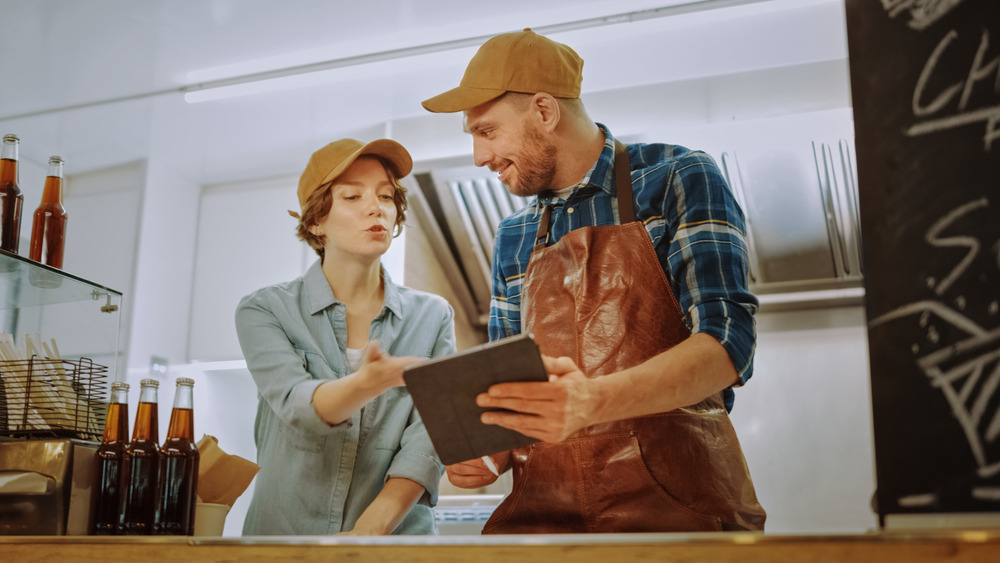 Decide Your Cooking Process
Once you've completed the details and legal steps of starting a food truck business, it's time to consider your menu and how you'll prepare it.
This process is vital because you need good food to retain customers and scale. Start thinking about setting up menus and recipes for each dish.
One point worth noting when cooking in a truck is the tight and limited space. You won't have much space, so fast food is often the first choice.
Besides, it would help if you also calculated whether you should prepare the ingredients or prepare them the day before.
If you are not prepared in advance, it will be difficult to serve many customers. Delays can affect your business.
Don't forget the element of taste and convenience. When dining out, people often look to eateries that are easily accessible and can be taken out quickly.
Hire Employees
Although most truck owners will be in charge of most of the work, you will undoubtedly be overwhelmed if there are too many customers.
The optimal solution is to hire some hourly employees. They will be the ones who can perform tasks you are not proficient in or pay attention to.
The number of employees for such a business model ranges from two to four.
Some of the most common roles for food truck employees include:
Window attendant: This employee is the person who directly interacts with customers by delivering food and making payments. They need to have an open and cheerful personality to complete the task.
Truck cook: The chefs will take care of the food preparation. If you have a large client base, consider hiring two. The cost to hire a chef is usually the highest of the HR positions.
Prep cook: Even when things get out of hand, you'll need someone focused on prep and support. Cooking is a complicated business, and prep cooks can simplify the process.
Catering salesperson: Sometimes, you may get a catering contract for a party or an organization. To get those deals, you need an excellent salesperson. Their income comes from commissions after placing events.
Catering servers: Large parties or events will require separate catering staff. Since the frequency is not regular, you can hire them by the hour.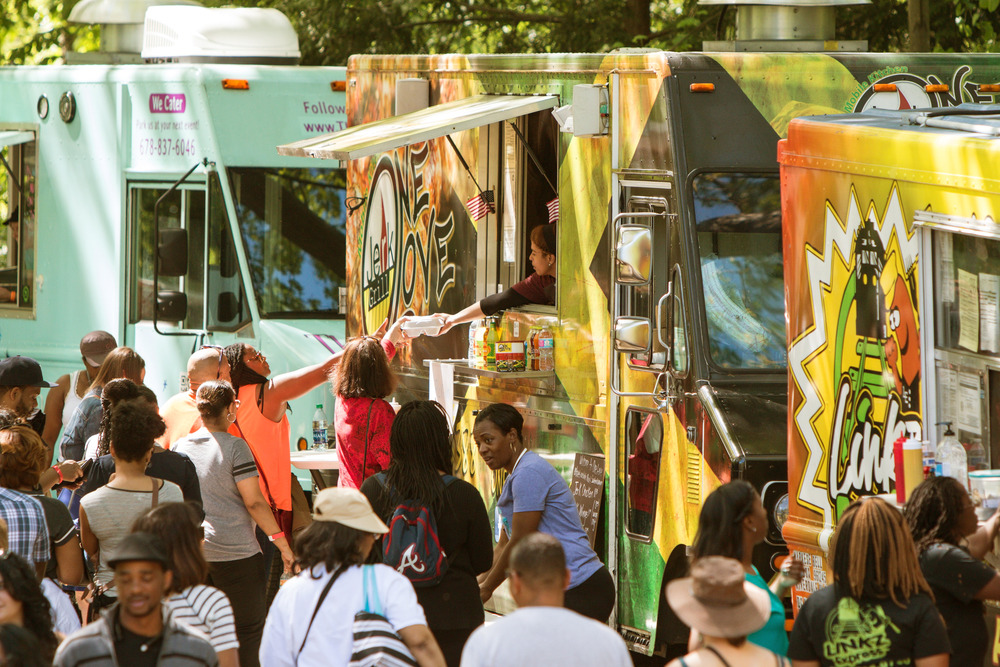 Choose Location
Location is always an essential factor in any business, including a food truck business.
Even though you can move around in your vehicle, you still need a few fixed parking spots to attract customers.
Not all states have the same parking regulations. The plan will fail if you cannot stop and reach the population in that area.
Please check the regulations in advance to avoid unnecessary fines. Fierce competition in recent years makes finding an ideal sales location challenging.
Advertise Your Truck
The final step in this guide is to find ways to increase your business' awareness and attract customers. You need to adopt a few marketing strategies.
A successful marketing plan is a combination of traditional and online strategies.
You need to participate in local events and festivals to attract attention. Even so, this is the best time to increase sales.
Attend these events regularly and prepare flyers with detailed information about your business. You will impress the population and make them come to you later.
Also, try working with other organizations to prepare your events. You'll also want to reach out to influencers for more vigorous promotion.
An online presence is also an exciting factor. Create a business profile on Facebook or other social networks and start sharing information.
If you want to scale and do business more professionally, consider building a website and owning a POS system.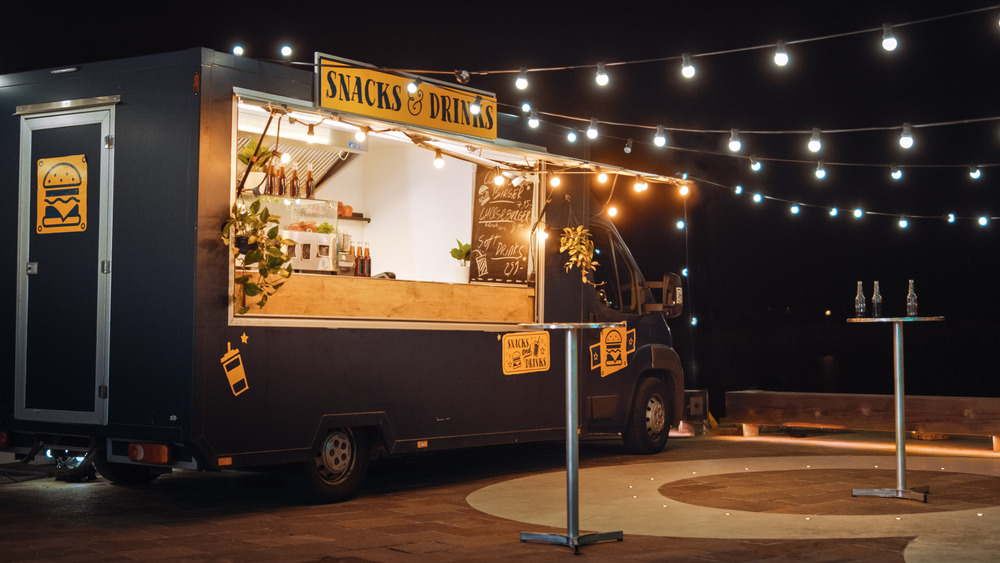 How To Find A Food Truck For Sale?
An economical way to own food trucks is to buy back old ones. Their cost is often much cheaper than buying a new means of transport.
One notable site to start rummaging through is Craigslist. Here, you can search in many shopping categories such as:
Local online classifieds: Many people choose this method of exchange because it is convenient and close to home. Used food trucks are much cheaper, and quality inspection is also more convenient.
National online classifieds: This option gives you a lot of information about various vehicle models. However, look for reputable sellers as you probably won't be able to spot-check.
Franchising and leasing: Multinational trucking companies are sometimes in the business of leasing or franchising vehicles. Even so, they often offer some binding terms and restrictions on control.
New custom trucks: Although the cost of this option is quite expensive, the results are well worth it. You will get a vehicle customized to your needs.
How Much Do Food Trucks Make?
According to statistics from Food Truck Empire, the total annual income of 34% of food trucks ranges from $100,000 to $150,000. With an income of $150,000 – $200,000, about 30% can be achieved.
You'll need financial knowledge, consistent cash flow, and break-even analysis to calculate your business's profitability.
Operating a food truck includes more costs than you might anticipate. Pay attention to personnel cost, equipment cost, and even the cost of small tools.
You should record the money coming in and out, so you don't miss any numbers.
Using practical financial analysis skills will help you better understand your business. You can also understand the business situation and its long-term stability.
Pros and Cons of Opening a Food Truck
Driving a truck loaded with delicious food sounds like the perfect job. However, this business still has its advantages and disadvantages that you need to know.
Understanding the characteristics and nature of the field will help you avoid unnecessary risks when starting a business.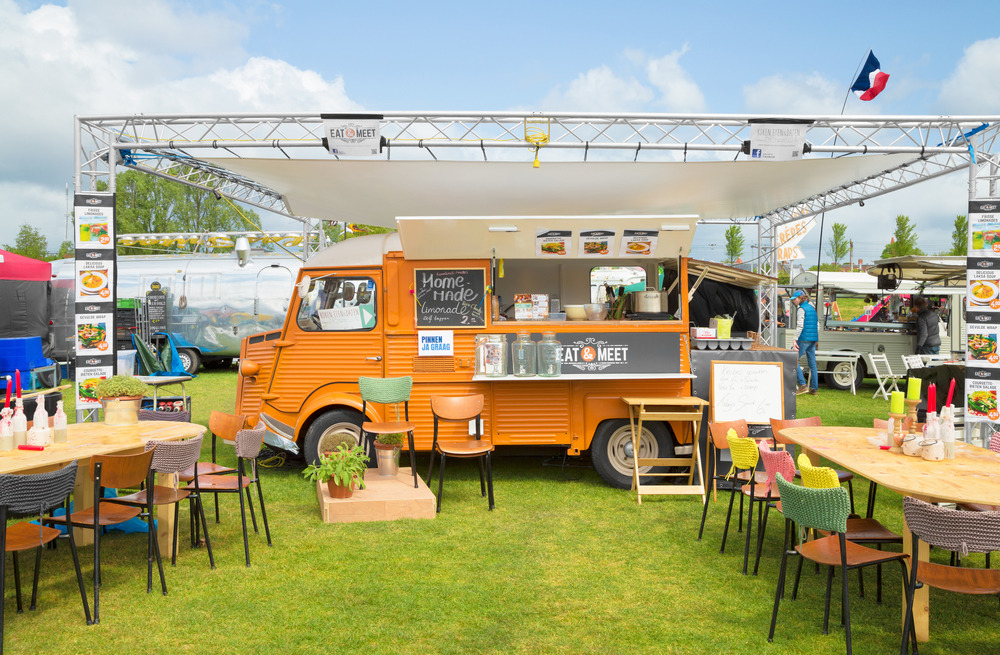 Advantages
When you own a mobile food business, you get a lot of advantages. The most notable pluses of this business model include:
Business Ownership
When you are a business owner, you will enjoy many tax incentives. Operating and maintaining a food truck is much easier than traditional business models.
Mobility
When owning a diner on the transport, your flexibility will be much higher than in brick-and-mortar locations.
You can take your business anywhere without being limited by time or distance. It is a massive advantage because you can access local festivals to increase customers.
Freedom
When you own a restaurant, you have almost complete control over it. You can test and discuss all of this model's performance without consulting.
It creates comfort and consistency in the quality and service of the store. It can build a good reputation if you correctly use it.
Low Cost
Although you still need some capital to start a food truck business, the number is not too large.
Compared to starting a traditional restaurant, selling food on a truck is a less expensive option. It is suitable for those whose financial situation is not strong.
Long-term Profits
The amount of overhead you have to pay to coordinate the operation of a restaurant like this is not too high. Therefore, this business model brings a more considerable profit margin than a traditional restaurant if successful.
It is also not a short-term project. You can stay on the go and keep meeting new clients over time.
Scalable
Compared to typical restaurant models, it is much easier to clone and develop food trucks.
The cost to invest in a model is not too large, and you also do not lose much money on personnel. So you can scale quickly to dominate the market.
Large Customer Base
Flexibility in movement means a high number of potential customers. You can move everywhere to interact with people.
This business model is especially suitable for crowded and busy festival areas. So take your chance.
Disadvantages
Despite the many advantages, the food truck business model still has some notable disadvantages. You need to be familiar with this knowledge because it can sometimes affect the quality of your job.
Time-Consuming
When you start a food truck business, you'll have to learn how to work around the clock.
Having few employees means you must take care of most of the work and stages. All the chores like shopping, cooking, marketing, or cleaning take a lot of time.
Be prepared to devote most of your day to this task. It will make you not have much free time for yourself.
Market and Competition
Since this job is not too big of a barrier, many people can enter the business and own similar trucks.
Therefore, the competition is extremely fierce. At festivals, you can easily see dozens of food trucks standing side by side.
Helpful advice is to make yourself stand out from the competition. The right marketing strategy will help your awareness go viral.
Zoning and Ordinances
For food trucks, not every locality and area has the same rules. Instead, they differ in each element.
You must comply with the law and prepare specific types of permits according to local requirements. Parking in public areas also has similar regulations.
Regulations like local employment or business taxes can also affect your revenue. Please check carefully.
External Forces
When you're selling outdoors, the weather will be a notable factor. It will be uncomfortable to face rain, storms, or whirlwinds.
Your business will sometimes depend heavily on the weather. Therefore, this industry usually only thrives from spring to summer.
If the weather is too harsh, you will almost not be able to sell any food during the day.
Pricing Expectations
The dishes on the menu should not be too expensive because customers will expect a moderate price. It will help if you recalibrate your feeds to ensure they don't affect sales.
Conclusion
Imagine you own a food truck and adventure with it through many different locations to interact with people. That feeling was incredible.
However, behind the freedom and fun are many stages and processes that need to be prepared. If you want to profit from this model, work hard.
Hopefully, our article has helped you understand how to prepare a mobile diner. Thank you for reading.